Welcome to the website of the
Navan & District Historical Society (N&DHS)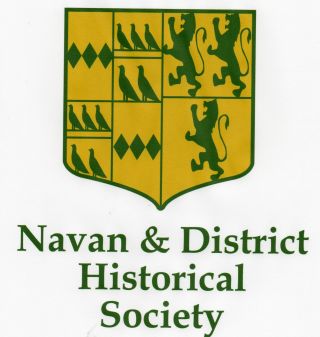 Founded in 2007 our main aim is to foster an interest in the local history of our area.
(you can see a more formal declaration of our aims in our Constitution under the
"

About Us

"
tab.
)
We hold meetings and excursions throughout the year, keeping them as informative and informal as we can, and urging our members to participate and enjoy themselves.
If you wish to learn more about us, why don't you apply to join us and enjoy meeting with
others who share your interest.
*******
PLEASE NOTE: IMPORTANT
We have an updated PayPal email address
Please make payments to

navanhistory@gmail.com
*******

Programme of Events
All meetings are held in Columbanus Hall, Canon Row, Navan at 8pm unless otherwise stated.
Thurs 26 Jan 2023 – AGM & A show and tell discussion on some objects from the collection
of Richard Farrelly.
Thurs 23 Feb 2023 – Enjoying Claret in Georgian Ireland - A history of amiable excess -
Patricia McCarthy
Thurs 23 Mar 2023 – Opening up the Archive - Patricia Fallon (Meath County Archivist)
Thurs 27 April 2023 – Dr. Michael Dillon of Lismullen and his role in transgender history -
Aidan Collins
Thurs 18 May 2023 – The Story of Spicers Bakery - Lisa Carroll
June or July – Annual Outing – to be confirmed.
August – Heritage Week Event(s): Dates to be confirmed
Saturday 19 August, Venue: The Solstice, Time: 2pm, Afternoon Seminar
1. Wild About Navan Heritage by Eimear Clowry Delaney
2. How Navan Became the Centre of Furniture and Carpet Making in Ireland by Ken Davis
3. St. Mary's Roman Catholic Church, Navan, Cathedral or Theatre? by Fr Declan Hurley
4. Medieval Navan by Clare Ryan
Other Dates & Talks (arrangements to follow)
Sun 17 Sept 2023 – Walk through Athlumney Manorial Village - Vincent Mulvany
Thurs 19 Oct 2023 –Beyond the Borora River - Terry Gargan
Date to be confirmed: A Sunday afternoon in Nov 2023 – A visit to the Battle of the
Boyne Centre with a talk – Brendan Mathews.