Welcome to the website of the
Navan & District Historical Society (N&DHS)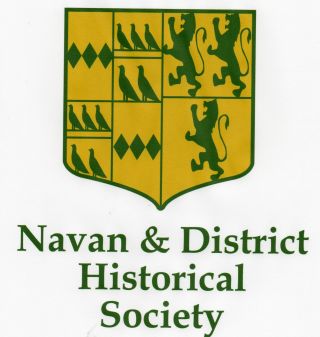 Founded in 2007 our main aim is to foster an interest in the local history of our area.
(you can see a more formal declaration of our aims in our Constitution under the
"

About Us

" tab.)
We hold meetings and excursions throughout the year, keeping them as informative and informal as we can, and urging our members to participate and enjoy themselves.
If you wish to learn more about us, why don't you

apply to join

us and enjoy meeting with
others  who
***
Our Next meeting is our AGM 8pm on 10 January 2019
Columbanus Ho. Canon Row
**
If you are interested in buying any of our publications you will find them in Tierneys of Trimgate St., Jimmy Reilly Brews Hill and the Parish Bookshop in St. Mary's.
*
Our most recent book, They Shall Grow Not Old, Navan's Great War  Dead published to accompany the WW1 Memorial in front of the old Town Hall in Watergate St., is available in Easons, Tommy's in Abbeylands, MacAloons in Trimgate St. Blackcastle PO and Fagan's in Blackcastle.
***
St. Mary's Church of Ireland celebrates its bi-centennial  this year. The church is a treasure trove of history and is part of our rich local heritage. Bob Dier's book to mark the occasion is a beautiful publication full of colour and interest and a fitting tribute to the church and its history.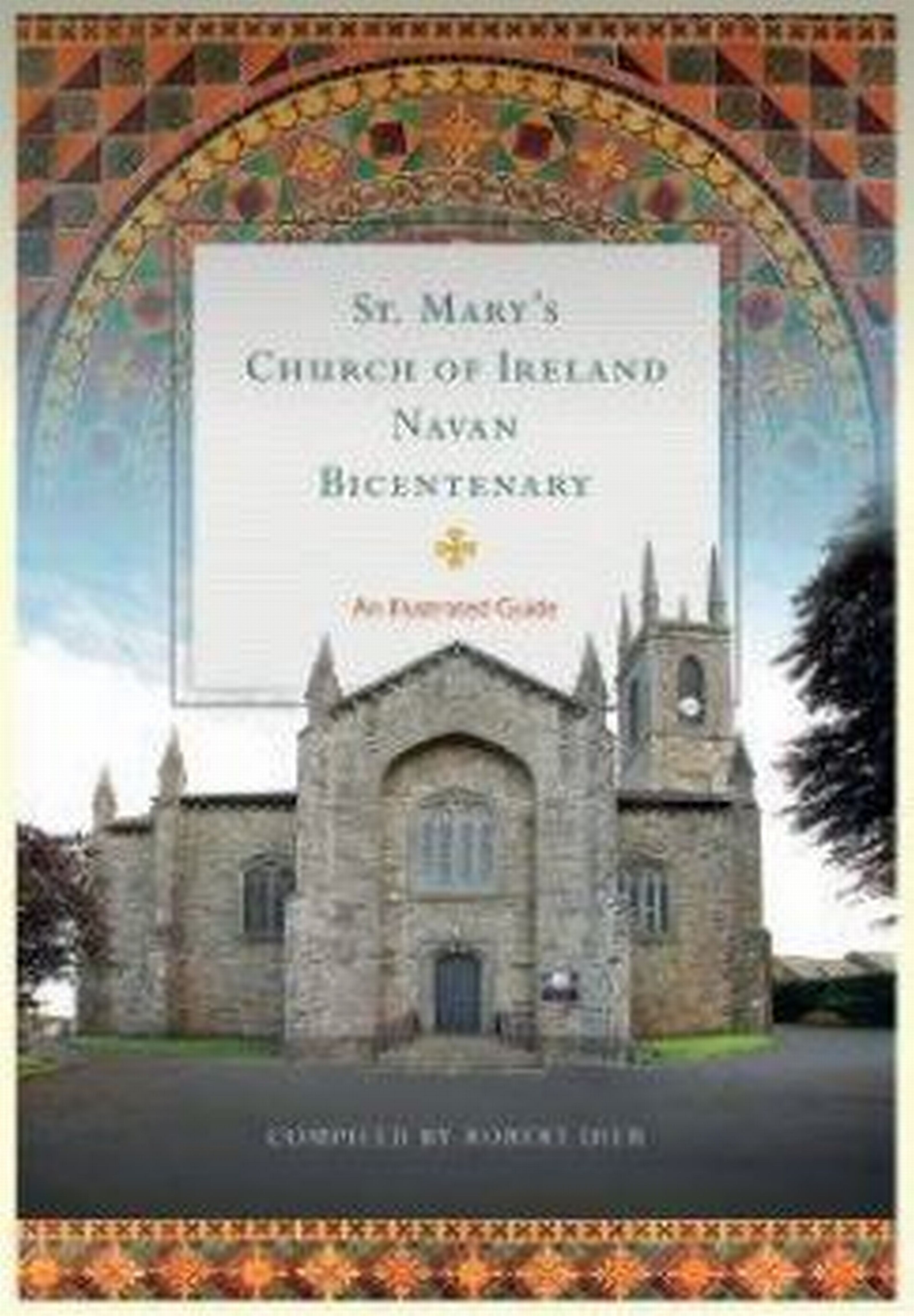 *
Latest Publication:
They Shall Grow Not Old -
published to accompany the WW1 memorial recently erected outside the old Town Hall, records the 138 men from Navan & District who did not return from the Great War.  The book is availble in Tierneys, the Parish Bookshop, McAloons Trimgate St; Supervalu in Johnstown, Blackcastle P.O. and Fagan's Blackcastle. Price €10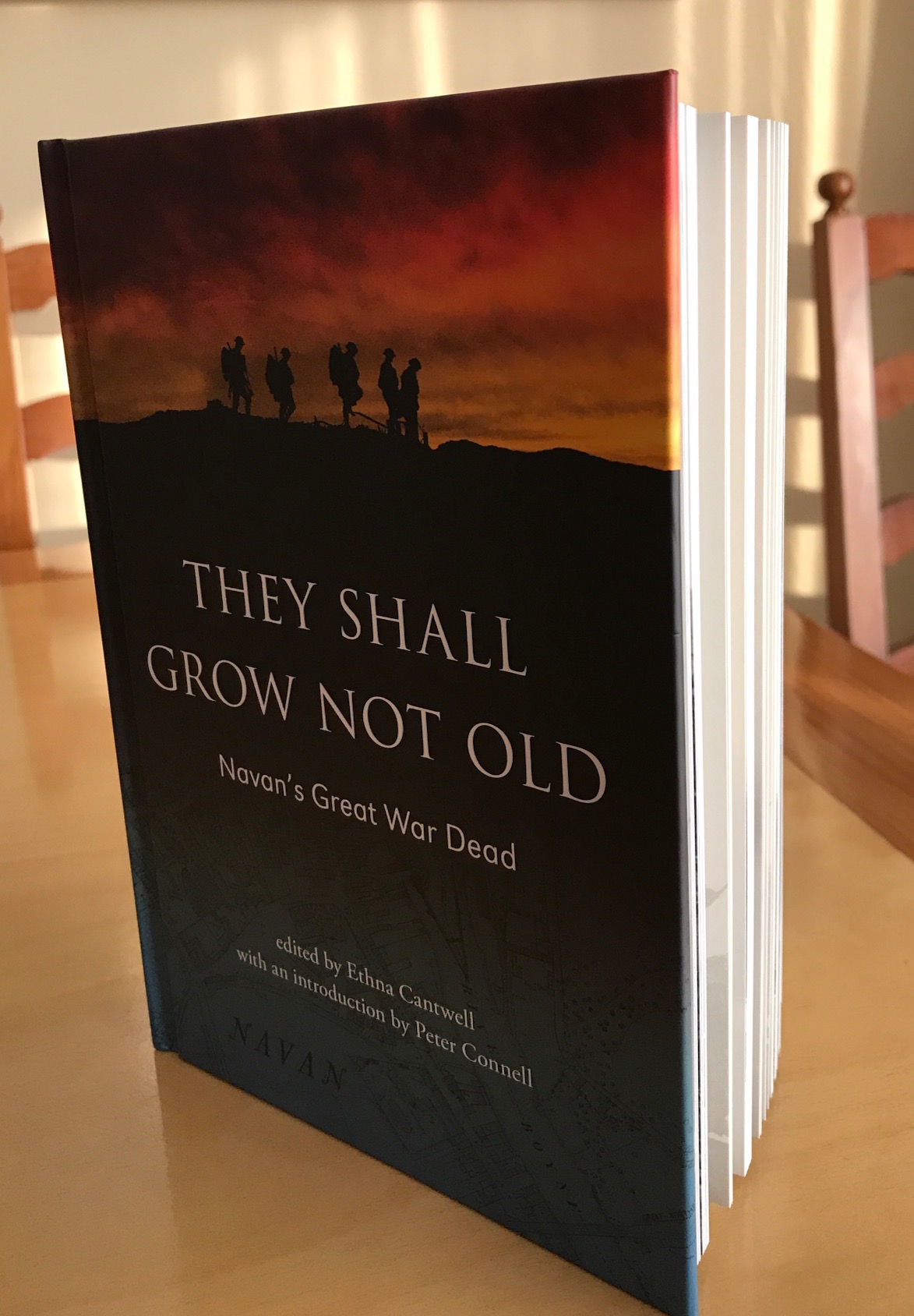 Vol 4 of our Journal Navan - Its People and Its Past is still available €15 paperback and €20 hardback. Tierneys, Trimgate St.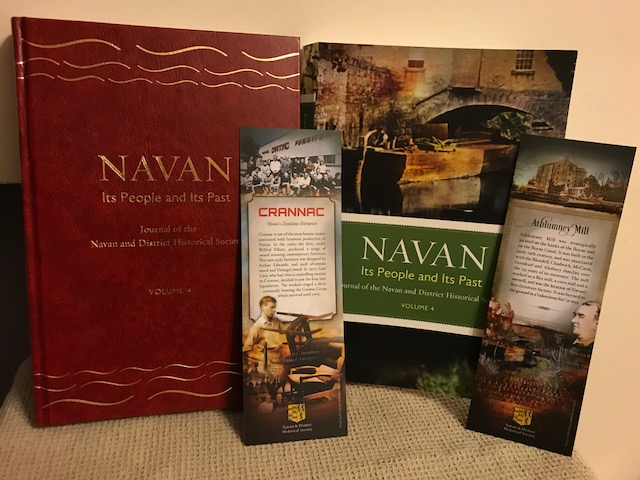 Tierneys also have limited numbers of vol. 3.
If you want to order any of the books shown above you can email us your address at history@navanhistory.ie and pay by PayPal, making payment to history@navanhistory.ie
Vol. 1 (published 2011) is out of print, but has been uploaded to this website.
***
All meetings unless otherwise stated, are held at 8pm in the
Columbanus House, Canon Row, Navan
Meetings are reserved for paid up members only ~ New members are always welcome
1 Mar. 2018  ~ Postponed due to the weather alerts
*
15 Mar. 2018   ~ Whatever happened to the Feis? – a social history of Feis na Mí
Fr. Séamus Heaney
This event is in conjunction with Navan Library during Seachtain na Gaeilge
Note location and time : 7.30 pm Navan Library
*
12 April 2018 ~ The Boyne from Trim to Slane  - Illustrated talk Anthony Holten &
Paschal Marry
*
17 June 2018 ~ Annual Outing: - A tour of Kilkenny City ~ John O'Grady (More details later)
*
July 2018  ~  Follow up visit to Dowth Hall
*
18- 26 August 2018 - Heritage Week:
Photographic Exhibition of Old Navan from the NLI Collection, Venue: The Solstice Navan Exhibition compiled by Clare Ryan
*
11 Oct. 2018 ~ What it said in the Papers: - newspaper Reports from Navan from the
1880s and '90s ~ Kevin Mallon
*
15 Nov. 2018 - Navan's World War 1 Experience ~ Ethna Cantwell
*

10 Jan 2019 ~ AGM followed by Powerpoint presentation of Old Photos by Vincent
Mulvany & Clare Ryan
***